Thinking About Taking a Holiday From a Company Holiday Party This Year?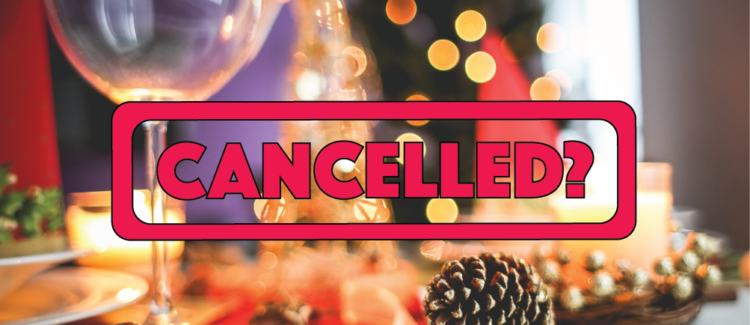 As the end of 2020 approaches, many companies are struggling with whether or not to hold their traditional company holiday parties. The decision is complicated by a number of factors including financial constraints, logistics, and legalities balanced with maintaining morale and ensuring everyone's health and safety. Very few would have anticipated being in this position just a year ago and, like most decisions during this ongoing pandemic, it does not seem there is any clear-cut right answer. Should you cancel all together? Go completely virtual? Or are there other alternatives that you might consider?
In-Person
If your company decides to go ahead with an in-person event to try to retain some sense of normalcy in a completely not normal year, here are some suggestions for how you might make it successful and still keep everyone safe:
Limit Guests to Just Employees – In years past, perhaps you included spouses and family members. The more people, the more potential for some kind of possible exposure. Plus, you may exceed any orders in your state to limit gatherings to a specified number of people. If your employees are interacting each day at work together, keeping your holiday invitee list to just employees helps to avoid introducing added exposure possibilities.
Schedule During Regular Business Hours – By scheduling during business hours, you make it easier for employees to be able to attend and not feel guilty, particularly if you decide to limit attendees to just your workforce members. Where your on-site employees are already accustomed to interacting and following any current COVID protocols you have in place, the event may have a better chance of going smoothly.
Avoid Buffets, Go for Pre-Packed/Plated or Have People Bring Their Own Food/Drink – According to CDC guidelines for hosting events, it is best to limit the number of people handling food. As such, the typical holiday buffet is considered to be at high risk and is discouraged. The lowest risk option would be to have each employee bring his/her own food.
Give Employees the Option to Participate Remotely – If you have staff already working remotely, employees who may be under quarantine orders or others who are not comfortable taking part in a large gathering, be sure you give everyone the option to feel included by offering some way for them to attend virtually either for part of the event or the whole thing.
Don't Forget the Hand Sanitizer, an Ample Supply of Masks and the Six-Foot Rule – To continue ensuring the safety of your employees, make certain there are lots of PPE and hand sanitizer available and that everyone can space out. The last gift you want to give at a holiday party is a contagious and lasting illness.
Holiday Gift Exchange – Having employees draw names for a holiday gift exchange can be a success. Be mindful of the fact that some workers may have financial constraints this year due to a family member's job loss, so be sure to think of ways to discretely allow people to opt in/out and also implement reasonable gift-giving limits.
Consider Having a Cubical Decorating or Other Holiday Themed Contest – Bring a bit of holiday cheer into your entire office to last throughout the next few weeks by encouraging employees to decorate their office spaces. Announce the winners at your holiday party. Remote workers can even get in on this perhaps by having the most festive background screen or ugliest sweater.
Virtual
Provide Take-Out Service – Providing a nice meal to your workers while also providing an income boost to a local restaurant struggling to survive could make for a happier holiday for more than just your own workforce.
Host in Smaller Groups (by Department, etc.) – We've all learned how fraught with problems virtual meetings can be, particularly this year. If you are using a conference software with gallery views, this can become even more apparent and makes it challenging to see who's who. Trying to moderate such a large group online can be a nightmare. Splitting into smaller groups of department members or by other groupings can work much better.
Consider a Local Musician or Act – The arts have been an area hit hard by the pandemic with many large venues like Broadway still completely closed. Hiring a local act to perform during your virtual event can be a win-win for your employees and will help a struggling local artist. A comedian would be great because we all know in 2020 we can sure use a good laugh.
Host a "Competitive" Trivia, Video Gamer or Talent Show – Even though all your employees may not choose to participate, they may still enjoy watching their co-workers which can provide both a fun activity and a bit of entertainment. Conference software just seems so fitting for a game of Hollywood Squares.
Still Not Sure?
Ask Your Employees What They Want – Doing a quick survey of what your staff may prefer is never a bad thing (although you may want to limit it to just a few options) and engaging them for feedback actually helps them to feel included and considered. Some of the best ideas often come from employees themselves and you may also be pleasantly surprised by what their expectations are given current circumstances.
Think of Alternatives and the IRS – You may opt to provide meals and gifts to all employees, but skip having the group get-together. Some employers may be considering just giving gift cards in lieu of a holiday party this year, but the IRS has issued guidance indicating that gift cards can fall under the fringe benefits and thus can be required to be reported as income. On the other hand, giving a certificate that is limited to a specific item such as a holiday ham or turkey has been noted as falling under the de minimis rule. Before making your decision on gift-giving ideas that could trigger problems with your payroll processing, you should check with your tax expert.
Whatever You Decide, Be Sure To…
Take Time to Acknowledge Essential Employees – If you were not quite certain who your key employees were in years past, 2020 definitely helped bring that to light. Many employees kept working throughout the initial shutdowns and did so during a time of great uncertainty while others in your workforce may have been able to stay home safe with their families while working remotely. Some employees received extra pay through federal or state programs, while many essential employees did not. It is important to recognize the sacrifices made and maybe even do something extra (e.g. let them carry over extra unused vacation time or cash some out this year as they may not have had much opportunity to take it this year). With worker shortages right now, acknowledging and rewarding your essential staff members is important, otherwise they may find another employer who will appreciate them more.
Don't Sweat the Small Stuff: It's 2020 After All – At this point, everyone has pretty well learned to deal with the ups and downs of 2020 and to be more flexible and understanding. Go into planning knowing that this year is going to be very different than how things were done in the past and do not stress too much about trying to make everything perfect. Most of your employees will be very understanding and likely just appreciative of any effort you make.
Ultimately, you do not necessarily need to make your holiday party part of the long list of 2020's disappointing cancellations. Instead you may simply need to do things a little differently this year. Even the most simple acts will likely go a long way in bringing a little joy and hope to everyone's year – something we can all certainly use.