Workforce Software built to keep up with the demands of the healthcare and long-term care industries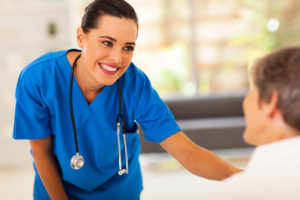 With a significant shortage of skilled nursing staff and countless studies showing that the ratio of nurses to patients or residents has a direct correlation to your CMS ratings and/or patient satisfaction scores, attracting and retaining your staff is vital to the health of your hospital or care facility.  Ensuring sufficient staffing coverage during peak demand periods and in accordance with regulatory requirements while balancing overtime requirements to prevent burnout and can be a nightmare.  Checkmate's workforce management solution can fulfill all your healthcare or long-term care staffing software and service needs.
The Checkmate HCM software platform utilizes a single database to store all employee information in a single record with data from payroll, time and attendance and HRIS, including capturing and compiling data for compliance reporting, such as Payroll Based Journal submissions.  We'll work with you and your team to develop a custom workforce software solution whether you desire a single module for time tracking, stage your implementation to start solely with payroll services and then add time and attendance with card or biometric access control and then tie in HRIS for recruiting and benefits administration or you can kick off with a complete workforce management enterprise solution including ACA Compliance Management and Workforce Scheduler.
Healthcare and long-term care facilities are dynamic, fast-paced environments where accuracy and response times are critical.  Shouldn't you have workforce management software that can keep up?
Expand Your Staffing Software Suite
Workforce Scheduler – Plan shifts using availability, skill training, overtime planning and historical data with our enhanced employee scheduling software.
Blended Overtime and real-time PTO Calculations – With online payroll services and time and attendance, calculate blended pay rates for cross-functional employees when they reach overtime in addition to calculating and administering ongoing vacation accruals and other PTO.
ACA Manager – Ensure you hospital's own compliance for its employees with ACA healthcare compliance regulations by automatically calculating FTEs and, in combination with our HRIS solution, automatically offer benefits when an employee becomes eligible.
Time Clocks – Incorporate time clocks with card reader access control or biometrics to provide dual function for entering areas and recording time and attendance

CheckmateHCM Solutions is proud to be a member of the New Hampshire Health Care Association.