HRIS Technology Built to Serve You and Your People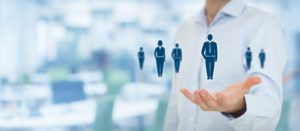 Strategically building a dynamic workforce capable of reaching and exceeding corporate goals can be a tall task, but also a thrilling challenging and rewarding accomplishment when you recruit a top candidate or help develop a talented employee and see him/her succeed.  What is not so thrilling is all the paperwork that goes along with it.
Recruiting and applicant tracking, employment eligibility verifications, onboarding and offboarding, benefits administration, training and certification tracking and performance reviews not to mention payroll stubs and W-2s all result in killing a forest of trees with the amount of forms and paper processes required.  With Checkmate HCM's HRIS software module and complete workforce management platform, that doesn't have to be so.   A custom HRIS solution will be designed to suit your needs and replace paper processes with streamlined automated electronic workflows, comprehensive reporting and online document storage, we can help you get back to what you love doing – peoplework, not paperwork!
Checkmate HCM is a single database platform with extensive data capture and query capabilities.  What does that mean?  All of your information pertaining to an employee is stored in a single record allowing you to easily and quickly pull up his/her file for reference, build custom reports using captured data for one employee, a group of employees or the whole workforce and view extensive dashboards to manage and measure HR goals against corporate directives and expectations.  We also offer payroll services with Employee Self Services (ESS) for employees to view and print pay statements, set up direct deposits and pre-tax benefit payments and view vacation accrual balances, plus we provide time and attendance tracking.