Checkmate in the Community – Red River Theatres' Hollywood to Main Street Sponsorship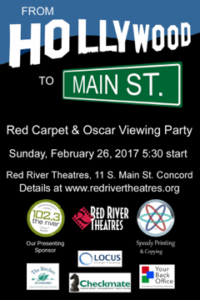 Checkmate is excited to be a sponsor of the Red River Theatres' fundraiser event From Hollywood to Main St: Concord's Own Red Carpet a fun way to take part in Concord's premier Oscar Viewing Party on Sunday, February 26, 2017.  As a local business, we are committed to being an active member of our community by supporting great local organizations like the Red River Theatres.
Festivities begin at 5:30pm and include walking the Red Carpet and a chance to be interviewed about your fashionable attire, so be sure to dress fabulously.  The event will include amazing food and drinks, live music, dancing and, of course, great cinema all to support an incredible venue.  Did we also mention, there will be prizes?  Please be sure to enjoy yourself during the Cocktails and Conversation portion of the event, which Checkmate is sponsoring.
To learn more about this fun celebration of film and how you can take part and/or support the Red River Theatres, please
CLICK HERE
.