HR Summer Forecast: Potential ICE Storms – Get Your I-9s in Order!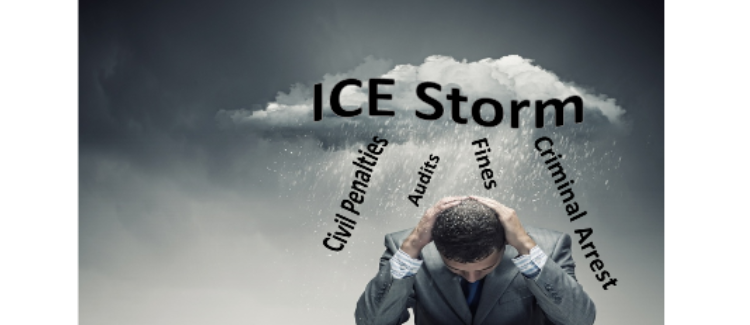 Many in New Hampshire know that there is always potential for ice on top of Mt. Washington at the Observatory even in the summer months.  Now officials are predicting an increased likelihood for ICE of a different sort this summer – nationwide Immigration and Customs Enforcement (ICE) work site investigations and audits.  Since the beginning of its fiscal year on October 1, 2017 through May 4, 2018, the agency's Homeland Security Investigations unit announced that it:
Opened 3,510 Work Site Investigations
Initiated 2,282 I-9 Audits
Made 594 Criminal Arrests and 610 Administrative Work Site Related Arrests
That is nearly double the number of actions taken in the entire previous fiscal year.  The surge is not attributed to any changes in laws – they still are enforcing regulations enacted over 30 years ago as part of the Immigration Reform and Controls Act (IRCA) of 1986. Instead there has been an increase in funding and change in directive pushing for stricter enforcement.
The IRCA requires employers to verify the eligibility of ALL employees they hire through proper identification, I-9 completion and a suggested use of e-Verify.  To avoid fines and other penalties or even criminal prosecution, employers should make sure they are diligent and consistent in completing the verification process for all workers.  It is highly recommended that employers maintain their I-9 documents in separate folders for each employee rather than grouped with other paperwork in the employee files to make producing the I-9 forms and backup easier in case of a Notice of Inspection, which allows the employer at least 3 business days to gather and make ready for inspection all I-9 documentation and potentially current payroll records, list of employees, Articles of Incorporation and business licenses.
The Notice of Inspection kicks off a series of events, as show in the following flow chart:
Failure to comply with current employment rules or even simple mistakes in form administration can quickly add up:
Civil penalties for knowingly employing unauthorized workers – $539 to $21,563
I-9 Paperwork Violation – $216 to $2,156 per worker
Criminal Arrests of Employers and Administrative Arrest of Undocumented Workers with Possible Deportation
Debarment from Federal Contracts
The anticipated goal for future ICE I-9 audits is 15,000 per year and an electronic processing center to streamline audits is expected to be complete in order to meet these goals.  While not yet mandatory, employers are strongly encouraged to use USCIS' e-Verify services when verifying eligibility for prospective employees as part of their employee onboarding.  There is currently no case law to provide guidance on whether employers are considered compliant by only maintaining electronic copies of I-9 forms and backup documentation (a feature of the CheckmateHCM solution, which permits employers to store all employee documents and data in a single, secure and accessible cloud-based location).  As such, it is suggested that employers maintain both electronic copies and paper copies of these documents for the time being.  Employers can also conduct self-audits to catch potential errors and make permitted corrections as allowed using the Guidance for Employers Conducting Internal Employment Eligibility Verification Form I-9 Audits from the USCIS.
Need a better way to ensure all your new hire compliance documents like I-9s are completed, processed and retained accordingly?